Holiday Hours, No RMD's, Goodbye 2020, Vaccine, Stimulus
Christmas/New Year Market and Office Schedule:
The US financial markets will close early at 12:00 noon CST, 1:00pm EST, on Thursday, December 24th, Christmas Eve. Markets will also be closed on Friday, December 25th for Christmas Day. Our offices will close at 3:00pm CST on Wednesday, December 23rd and be closed all day December 24th as well as Christmas Day, December 25th. This means the monthly distributions from E*Trade Advisor Services accounts will not go out until Monday, December 28th, due to the Christmas holiday and weekend.
US financial markets will also be closed Friday, January 1st for New Year's Day.  Our offices will be closed Thursday, December 31st as well as Friday, January 1st for the New Year's holiday.
NOTE: We will be working remotely next week and won't be in the office during our normal business hours but will be available if needed. We will have full access to all emails, phone calls, etc. and will be available as usual.  We will be back in the office on Monday, January 4th for normal business hours to start 2021! As we are sure most of you agree, it will be good to say "goodbye" to 2020 and welcome in a new year.
Required Minimum Distributions (RMDs) Waived in 2020:
2020 has obviously brought its fair share of challenges, but one note of exception is the welcomed Required Minimum Distribution (RMD) Waiver for 2020.  According to the IRS website, "The CARES Act enabled any taxpayer with an RMD due in 2020 from a defined-contribution retirement plan, including a 401(k) or 403(b) plan, or an IRA, to skip those RMDs this year and nothav. This includes anyone who turned age 70 1/2 in 2019 and would have had to take the first RMD by April 1, 2020. This waiver does not apply to defined-benefit plans."
We, at F.I.G., have proactively notified our RMD-eligible clients of this option, but we just wanted to remind everyone of this provision within The CARES Act.  If you have any questions regarding this waiver, please don't hesitate to reach out to us at your convenience.
So Long 2020
The efficacy of current mRNA technology shown by recent vaccines bodes optimistically for both mankind today against COVID as well as against other current and future viruses.
$900 billion stimulus finally passes Congress but Trump threatens veto, most Americans set to receive $600 payments as well as state-provided unemployment insurance getting a $300 a week boost if signed.
Georgia's Senate election in January that could decide what party controls the Senate and potentially Congress.
We remain optimistic for 2021, continuing to find opportunities as well as understanding the virus will take time to be subdued that could bring near-term risks.
The year 2020 is one that many worldwide were affected in some way or another. It's a year many will not forget and we probably haven't seen a year with such a global impact year since 2008. Even though a once unthinkable event like the US's debt rating being downgraded in 2011 during the midst of a European debt crisis, occurred, this mainly created financial impacts and did not affect the globe in one sweep or receive the media attention seen with COVID-19. We previously discussed what was coined as "presentism," essentially believing the chaos of today has been the worst in history, while we highlighted quite the contrary. We are optimistic for the future. We see this new vaccine technology, mRNA, as revolutionary, which was a complete surprise to us since the pandemic's onset.
Historically, pandemics have fizzled away and come to an end before a vaccine could ever be produced. The mRANA technology still has much to prove, but it is extremely compelling and promising. It has been in development for a decade, and it has now seen two different firms achieve comparable results using this technology. And while the sample sets could still be argued as small, the next few months will tell us a larger story. The chart below shows Pfizer's data after one dose, charting the positive infection rates between placebo and vaccinated patients. The final conclusion, "Two doses of an mRNA-based vaccine were safe over a median of two months and provided 95% protection against symptomatic Covid-19 in persons 16 years of age or older." Moderna's vaccine shows comparable results. We may be naive, but if this efficacy continues and is able to be extrapolated to other viruses, we could see a day that even viruses like the flu are eradicated. According to the WHO, flu still claims an average of 650,000 lives per year, which most have learned to live with.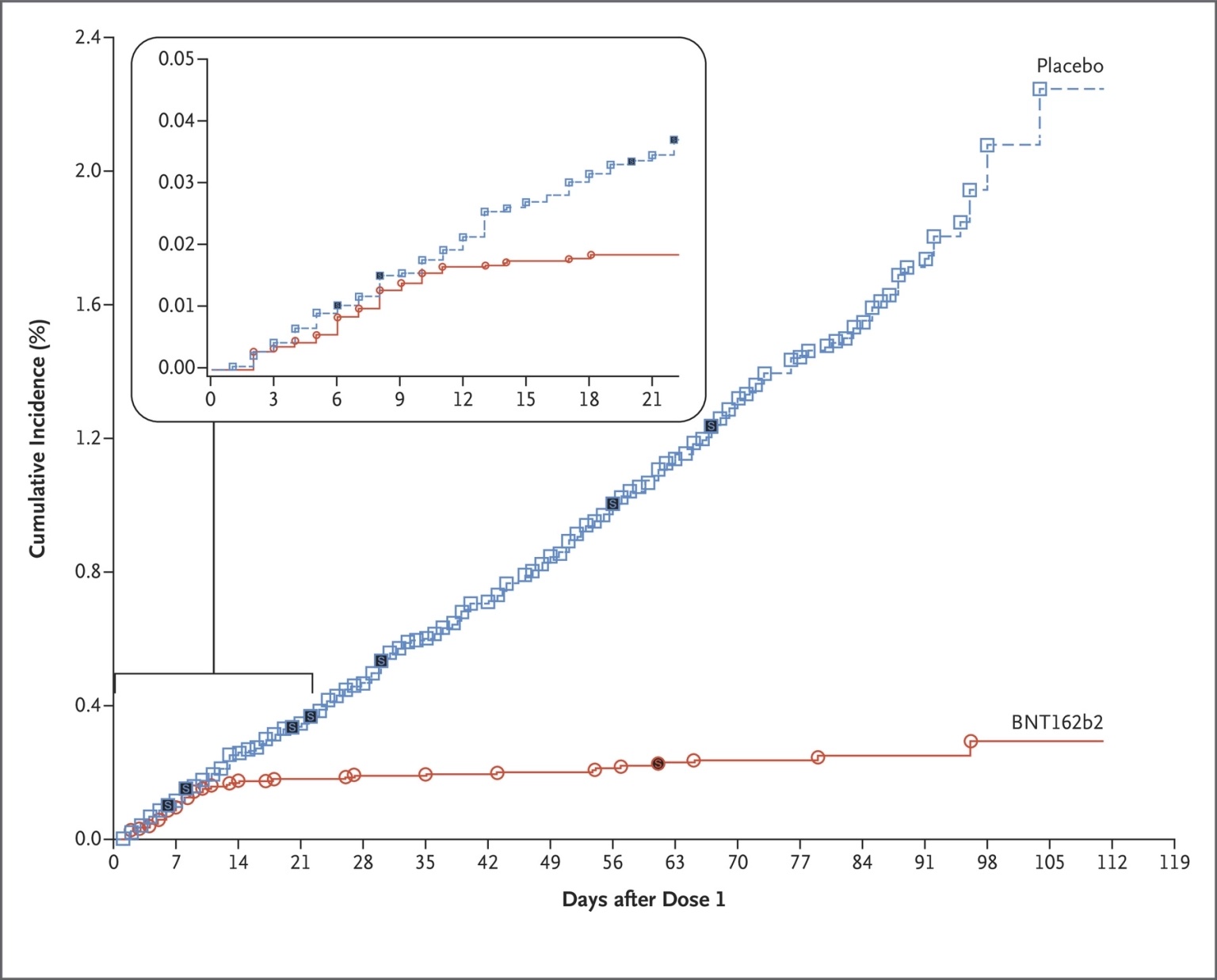 Image Source: The New England Journal of Medicine
Stimulus Finally Passed
As mentioned, the much-debated stimulus bill has finally passed Congress, much later than originally expected and totaling $900 billion. Nonetheless, it has now officially passed. It now awaits President Trump's signature, but he has threatened to veto and wants $2,000 paid per person vs. the bill's $600.00. We will keep you posted as to the status of the bill. The main highlights of the bill are if signed into law:
$166 billion in stimulus checks reaching most Americans, giving the American family of four $2,400 with the same income constraints as the first stimulus checks
$120 billion to increased unemployment payments, boosting their state-provided unemployment checks $300 per week through mid-March
$284 billion to the Paycheck Protection Program (PPP), which seems to have more stringent requirements than the first tranche of loans
$69 billion targets vaccines, testing and health providers.
$82 billion for schools and universities
$25 billion towards rental assistance, granted to the states and local governments to assist those who are behind in rent and avoid eviction.
$26 billion with half going towards increasing food stamps, funding food banks, other food aid and the other half going towards farmers and ranchers.
$10 billion in child-care assistance.
$10 billion in Postal Service loan forgiveness.
It also provides $1.4 trillion approval of operating budgets and $1.4 billion in border wall funding.
Over 3,000 pages of other various legislation with items like consumer protection on out-of-network surprise medical bills, various tax extension and breaks, and over 400 pages of water project approvals.
Politics Focus on Georgia
Come January 5th, Georgia will be in focus as its election will decide the balance of Congress, electing two Senate seats. This could have major impacts for policy in the following two years, as it could lead to either Democratic control of Congress or a continued gridlocked Congress. The former could see significantly higher government spending and higher tax rates, while the la would probably see more of the current status quo. Regardless of the outcomes though, the vast majority of Americans will see tax increases come 2025 when the initial tax policies are set to expire at the individual level. We continue to watch these events and various outcomes to be vigilant for clients' financial futures and portfolios.
Portfolios in 2021
For risks associated with coronavirus specifically, vaccinations will take time, and it could make for another volatile 2021, as governments try to contain the virus in different ways as the vaccine is distributed. Stimulus has finally passed to try and bandage the holes today, which could very well see more coming in the future months. But looking even further past 2021 and into 2022, the horizon looks quite bright, in our opinion. We continue finding attractive opportunities for clients. Markets as a whole do not seem excessive, although many pockets are seeing concerning valuations. These excessively valued spots are ones we will continue to avoid for clients as we believe it shows all risk with very little reward. Many of the uncertainties we faced in 2020 should be behind us as we progress into 2021. Markets and portfolios have performed relatively well this year given what we have been through and we are looking forward, like most of you, to put 2020 behind us and start a new year.
We are here if you ever have any questions or concerns, or if we can be of further service to you in any way. We are looking forward to working with you all in the years to come.
Have a blessed and Merry Christmas and a very safe and Happy New Year!
God Bless,
Your TEAM at F.I.G. Financial Advisory Services, Inc.
"For unto you is born this day in the city of David a Savior, who is Christ the Lord." Luke 2:11 ESV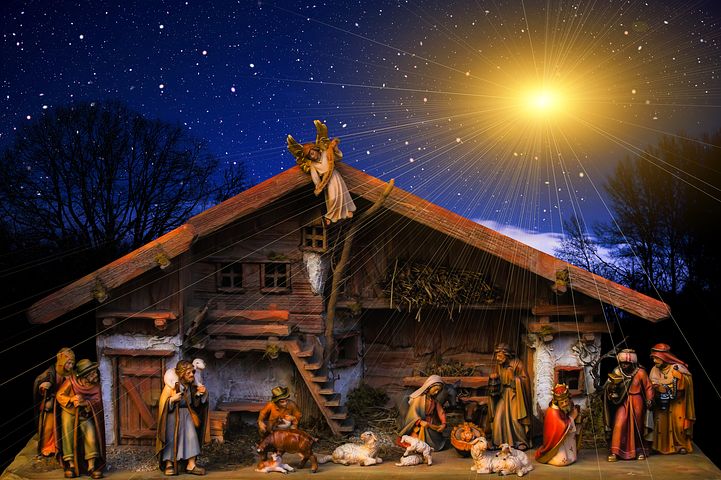 This update expresses the views of the author(s) as of the date indicated and such views are subject to change without notice. F.I.G. Financial Advisory Services, Inc. (F.I.G.) has no duty or obligation to update the information contained herein. Further, no representation has been made, and it should not be assumed, that past investment performance is an indication of future results. Moreover, wherever there is the potential for profit there is also the possibility of loss. This information is being made available for educational purposes only and should not be used for any other purpose. The information contained herein does not constitute and should not be construed as an offering of advisory services or an offer to sell or solicitation to buy any securities or related financial instruments in any jurisdiction. Certain information contained herein concerning economic trends and performance is based on or derived from information provided by independent third-party sources. F.I.G. believes that the sources from which such information has been obtained are reliable; however, it cannot guarantee the accuracy of such information and has not independently verified the accuracy or completeness of such information or the assumptions on which such information is based. F.I.G. has made an attempt to show sources and links to that data, when possible. However, F.I.G. cannot guarantee or be held liable when accessing those links, as it is not property of or maintained by the author(s). 
This update, including the information contained herein, may not be copied, reproduced, republished, or posted in whole or in part, in any form without the prior written consent of F.I.G.